Kesepian di Masa Pandemi, Haruskah Mencoba Virtual Blind Date?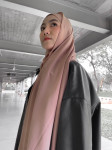 Pandemi memang membuat sejumlah orang yang masih dalam status single mengalami kesepian. Beberapa lebih memilih virtual blind date sebagai solusinya. Haruskah?
Di masa pandemi, kita memang cenderung rentan merasa kesepian. Jangankan yang ingin memperluas pergaulan, yang sedang mencari pasangan pun sulit.
Menurut sebuah survei yang dilakukan Into The Light da Change.org terkait kesehatan mental masyarakat Indonesia pada periode Mei hingga Juni 2021 lalu menunjukkan hampir semua partisipan yang terdiri dari 5.211 orang dari enam provinsi di Pulau Jawa merasa kesepian. Hasil survei tersebut menunjukkan 98 persen partisipan merasa kesepian dalam satu bulan terakhir.
Nah, kali ini kita akan ngobrol bersama tiga perempuan yang mencari cinta lewat jalan berbeda. Ada yang mengeksplor dating apps, taaruf, dan ikutan virtual blind date. Tonton video ini sampai tuntas, ya.
Video ini terdiri dari dua part, pastikan kamu menonton Part 2. Tonton semuanya, ya!
—
Slice of Life dari Women by Narasi  membahas isu-isu terkini dan timeless seputar kehidupan perempuan. Menampung beragam perspektif dan perbedaan pilihan suara perempuan.
BACA JUGA:
7 Manfaat Berpelukan Secara Rutin Untuk Hubungan Rumah Tangga
Cover: WMN