Calling All Sesame Street Lover!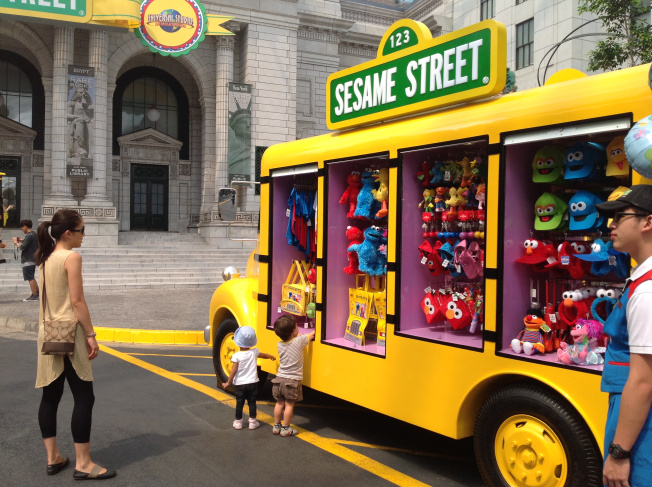 sazqueen
a mother of one who study Anthropology by choice! Hello…
Woohoo! Di Universal Studio Singapore, kini sudah ada area Sesame Street!! Mini show-nya tiga kali sehari, pukul 10.00, 14.00, dan 18.00. Tadinya ketika merancang itinerary ke Singapore, saya sudah skip si Universal Studio Singapore. Tapi ketika mendapat info kalau Sesame Street Theme sudah dibuka resmi tanggal 1 Maret 2013 lalu, maka saya langsung menyelipkan jadwal kesini. Tiket masuk yang lumayan mahal, membuat saya sempat berpikir dua kali. Walaupun Menik gratis, tapi tetap saja, saya akan merasa rugi jika sudah niat bikin Menik senang tapi ternyata anaknya belum mengerti. Sebelum berangkat, saya tanya berulang kali dengan "Menik mau ketemu Elmo?" Dijawab lantang "Iya!" saya tanya lagi "Mau ketemu Cookie Monster?" Dijawab lagi dengan anggukan "Iya!" Jadi akhirnya saya memutuskan untuk masuk ke Universal Studio.
Dengan menggunakan shuttle bus gratis khusus wisatawan dari bus stop persis dibawah Marina Bay Sands, kami sampai di area sekitar pukul 11 siang. Setelah membeli satu tiket seharga SGD 74, kami masuk dan langsung menuju area Sesame Street. Menik langsung teriak kegirangan, dan minta turun dari stroller. Akhirnya Menik lari-lari menuju bus Merchandise Sesame Street dan sibuk menunjuk semua benda bertema Elmo dan Cookie Monster. Saat itu badut figure yang stand by adalah Big Bird dan Abby, kami pun foto bersama kemudian bertanya apakah Elmo dan Cookie Monster akan keluar? Petugas jaga bilang, mereka akan keluar saat mini show pukul 14.15.  Sambil menunggu, kami masuk ke beberapa toko merchandise yang ada. Menik bingung harus bersikap apa hingga akhirnya ia menjatuhkan diri diatas tumpukan boneka. Saya tidak menyangka kalau Menik sudah cukup mengerti soal hal yang ia suka.
Sayang sekali, karena tingginya Menik belum cukup, kami tidak bisa mencoba wahana Elmo: The Spaghetti Chaser yang ada. Keluar dari salah satu toko tadi, ada tempat foto yang bisa langsung jadi dan diambil, harganya sekali foto adalah SGD 20. Ketika selesai foto disitu, tiba-tiba salah seorang petugasnya mendatangi kami dan bilang "Excuse me, mam, I saw Cookie Monster in front of public library. I think your daughter will be happy to see him!" Bergegas kami mendatangi si Cookie Monster dan minta untuk foto bersama.
Sekitar pukul 14.00, saya langsung stand by di barisan paling depan bersama Menik untuk menikmati mini show. Dan tepat pukul 14.15, Elmo dan Big Bird keluar dari pintu samping menyapa semua anak-anak (dan penoton dewasa) yang ada dengan Opening Song Sesame Street yang tersohor, "Sunny Day, sweeping all clouds away…" Lagi-lagi kejutan dari Menik adalah dia sangat enjoy menyaksikan show ini. Tangan kecilnya sibuk bertepuk-tepuk, sesekali keluar teriakan kecil memanggil Elmo, Cookie Monster atau Ernie, dan Menik juga berani untuk ber-high five ketika Cookie Monster datang ke hadapannya. Her face expression was priceless! This Sesame Street mini show is worth to wait :)
Sedikit kiat, jika tidak terlalu urgent, tidak perlu jajan didalam, karena harga makanannya over-priced. Mending bawa bekal atau makan di food court di luar, Malaysia Street Food bisa menjadi pilihan jika mencari yang halal. Harga tiket one day pass dewasa adalah SGD 74, anak-anak (4-12 tahun) SGD 54, dibawah 4 tahun masih gratis. Tiket tetap berlaku apabila kita ingin keluar terlebih dahulu, pastikan tiket tersimpan dengan baik dan minta cap agar bisa masuk kembali. Selamat bernostalgia bersama Sesame Street dan selamat mengajak anak-anak bersenang-senang bersama Big Bird dan kawan-kawannya, ya!
sazqueen
a mother of one who study Anthropology by choice! Hello motherhood.