Menjadi Ibu Andal Di Era Digital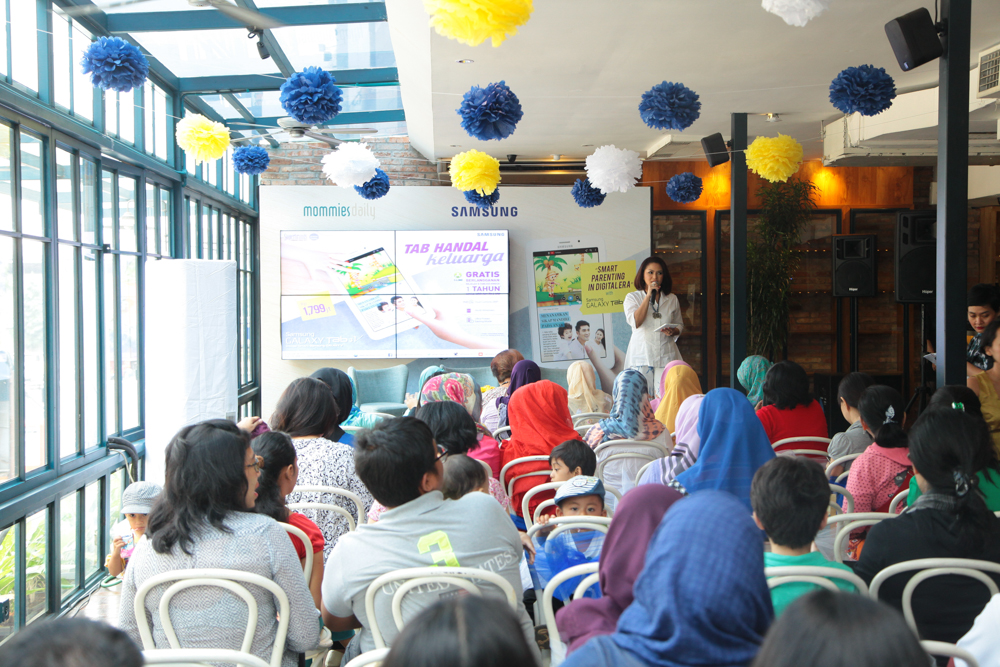 AnitaThaTha
Panggil saya Thatha. I'm a mother of my son -…
Saat produk zaman modern bernama gadget sudah merambah ke segala lini kehidupan manusia. Baik kaum tua, muda bahkan tak terkecuali anak-anak. Bagaimana kita sebagai orangtua menyikapinya, agar kehadiran gadget bisa menjadi mitra dalam mendidik si kecil?
Awal Juni lalu tepatnya di Locanda, Jakarta Selatan menjadi akhir pekan yang sarat akan ilmu parenting untuk komunitas Mommies Daily dan semua pengisi acara hari itu. Dengan tema "Smart Parenting In Digital Era", Mommies Daily dan Samsung Tab3Vbekerja sama meramu acara untuk para orangtua yang menaruh perhatian serius terhadap kehadiran gadget di tengah keluarga mereka. Supaya gadget dapat dimaksimalkan manfaatnya, dan menjadi mitra setia setiap anggota keluarga memudahkan aktivitasnya masing-masing.
Kalau Anda sendiri biasanya menggunakan gadget untuk apa saja sih? Terutama yang berkaitan dengan urusan keluarga, anak-anak dan pekerjaan. Misalnya nih, kalau saya pribadi urusan kantor jadi sangat mudah dengan kehadiran gadget – email yang setiap hari hilir mudik bisa dengan mudah terpantau di manapun dan kapanpun. Atau mengecek keadaan Jordy anak saya yang berusia hampir setahun di rumah, yang diasuh orangtua saya dan dibantu oleh Asisten Rumah Tangga. Singkatnya seorang ibu adalah pusat informasi dalam sebuah keluarga, karenanya rasanya pantas ya Mommies, kalau kita ni kaum ibu dibekali oleh gadget yang memiliki fitur-fitur berkualitas sehingga meringankan pekerjaan harian kita.
Sejalan dengan hal tersebut, Samsung GALAXY Tab3V mengakomodir kebutuhan kaum ibu, untukmendapatkan informasi yang lebih banyak, akurat, dan tentu saja kekiniaan. Misalnya untuk mencari referensi resep masakan untuk keluarga, merencanakan keuangan keluarga, membantu si kecil mengerjakan pekerjaan rumah dengan menggali informasi menggunakan Samsung GALAXY Tab3V.
Selanjutnya bagaimana memaksimalkan gadget untuk media belajar?
AnitaThaTha
Panggil saya Thatha. I'm a mother of my son - Jordy. And the precious one for my spouse. Menjadi ibu dan isteri adalah komitmen terindah dan proses pembelajaran seumur hidup. Menjadi working mom adalah pilihan dan usaha atas asa yang membumbung tinggi. Menjadi jurnalis dan penulis adalah panggilan hati, saat deretan kata menjadi media doa.