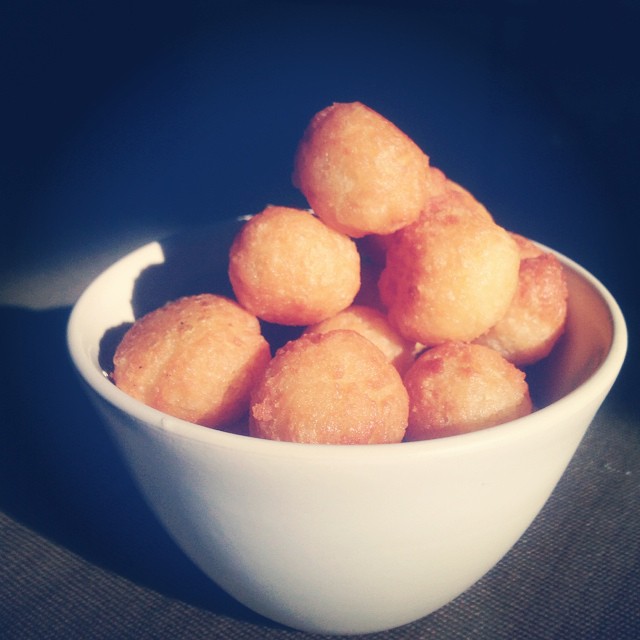 sazqueen
a mother of one who study Anthropology by choice! Hello…
Tadinya camilan ini saya beri nama Churros Bites, simply because I used Churros Recipe tapi saya terlalu malas untuk mengambil dan menggunakan pipping bag untuk mencetaknya. Jadi akhirnya, adonan hanya saya ambil pakai tangan sedikit kemudian dibulatkan sedikit dan langsung digoreng. Begitu diunggah ke IG, teman saya langsung bilang "Ini Oliebollen". Adonan yang sama namun cara mencetak yang berbeda, bisa menghasilkan nama penganan yang beda. Sebetulnya dulu saya sudah pernah makan OlieBollen, tapi saya nggak tahu kalau bahannya ternyata sama dengan Churros, hihihi!
Hasil browsing mengatakan, An oliebol is a traditional Dutch and Belgian food. They are called oliebollen in the Netherlands, while in Belgium they are called smoutenbollen in Dutch and croustillons in French. Traditional 'oliebollen' (literally, 'oil balls') have often been called the precursor of the donut, the popular American treat. In fact, it seems very probable that early Dutch settlers took their tradition over to the New World, where it evolved into the anytime-anywhere snack the donut is today. In Holland, however, they pretty much remain a seasonal treat: made and enjoyed specifically to ring in the New Year. Ya, boleh dibilang, ini donatnya Oma Belanda, lah. Ada yang mau coba untuk membuat camilan super mudah ini?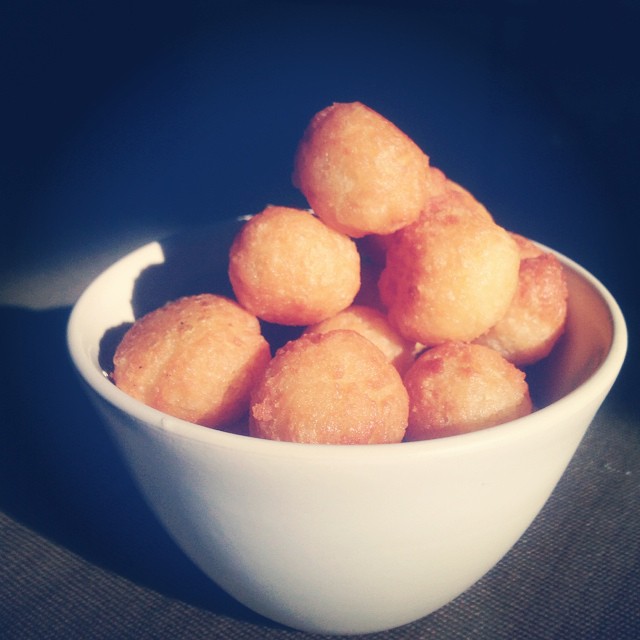 Bahan:
1/2 cup susu + 1/2 cup air ATAU 1 cup air
2 sdm gula pasir
3 sdm mentega
1 cup terigu serbaguna
1/4 sdt garam
Minyak untuk menggoreng
Cara membuat:
Masukkan air, susu, mentega, gula, dan garam ke dalam panci. Masak sampai mendidih.
Matikan api, langsung matikan api dan aduk adonan dengan cepat. Saya menggunakan spatula silikon, aduk hingga rata dan adonan terlihat mulus, tidak ada gumpalan terigu sama sekali.
Ambil sedikit adonan, bentuk jadi bola-bola. Besarnya boleh sesuai selera. Kalau mau, bisa diisi potongan coklat atau kismis. Lakukan sampai adonan habis.
Panaskan minyak, masukkan bola-bola adonan secukupnya. Jangan terlalu penuh. Bisa diaduk sesekali agar bola churros tidak menempel. Goreng hingga coklat keemasan. Angkat dan tiriskan. Ulangi hingga adonan habis.
Hidangkan hangat, dan sebagai pelengkap bisa dengan gula palm dicampur bubuk kayu manis atau gula halus.
Mudah, kan? Oliebollen ini memang camilan khas musim dingin kalau di negara asalnya. Biasanya dijual di food truck pinggir jalan. Kebetulan di Bandung sudah mulai dingin lagi dalam rangka masuk ke musim hujan, jadi cocok juga untuk ngemil Oliebollen sore-sore. Selamat mencoba, ya!
sazqueen
a mother of one who study Anthropology by choice! Hello motherhood.