The English Roses, Buku Untuk Si Gadis Kecil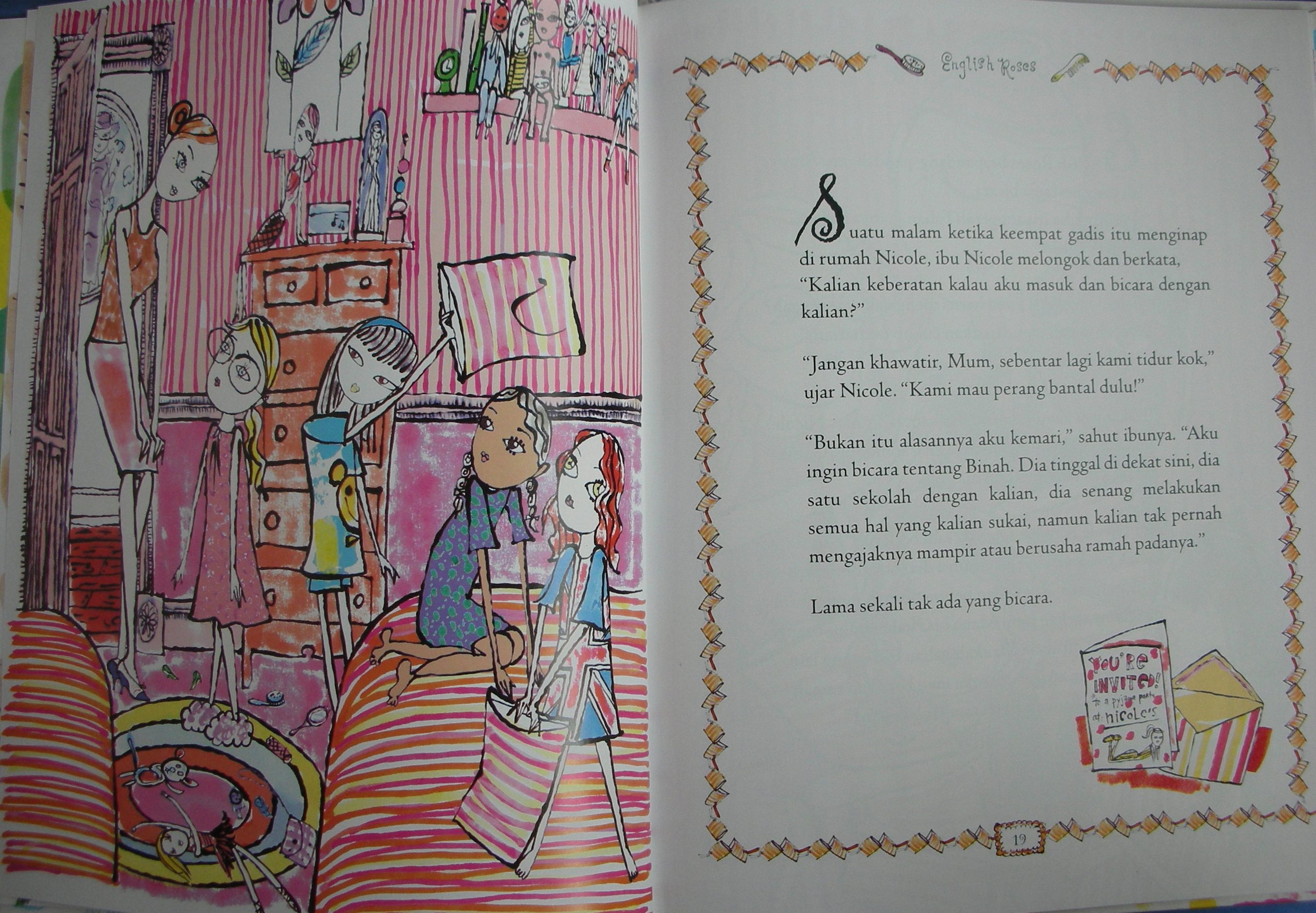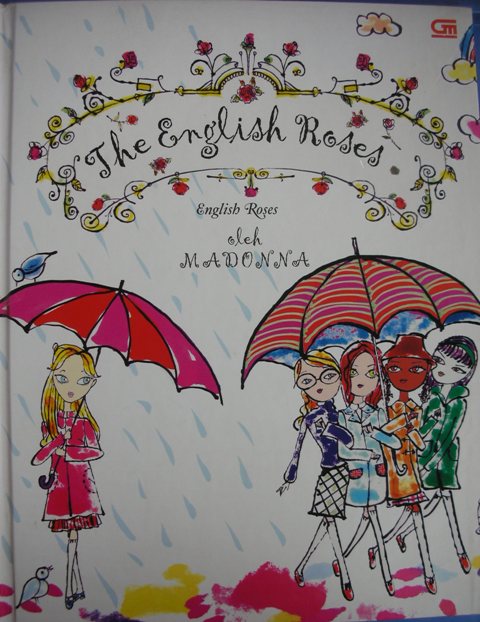 Terlambat memang baru sekarang saya tertarik mencari buku-buku tulisan Madonna. Tadinya saya underestimate. Saya pikir, ah, bukunya paling cuma populer karena nebeng nama saja. Ternyata setelah dibaca, banyak sekali moral story yang mendidik. Apalagi karena buku ini relatif baru, ya, jadi relevan dengan tren pergaulan anak-anak.
The English Roses bercerita tentang grup empat anak perempuan, Nicole, Amy, Charlotte, dan Grace. Grup anak-anak yang digambarkan sempurna ini iri pada gadis kecil lain, Binah, yang nampak lebih sempurna dan sering dipuji oleh orang-orang lain. Setelah sibuk iri dan mengeluhkan pujian orang-orang terhadap Binah, keajaiban terjadi. Mereka bermimpi Ibu Peri mengajak mereka melihat kehidupan Binah yang sesungguhnya.
Setelah tahu bagaimana keseharian Binah, tidak seorang pun iri lagi dan semua jadi jatuh kasihan dan kagum pada Binah. Penasaran, kan, gimana Binah sehari-hari sampai The English Roses berubah pikiran?
Familiar, ya, sebetulnya isi ceritanya. Entah berapa kali kita menilai seseorang atau sesuatu hanya dari apa yang terlihat. Kita tidak pernah tahu apa yang mungkin ada di balik wajah yang cantik, atau otak yang pintar. Yang kita tahu cuma…kita kalah hebat, kalah cantik, kalah kaya, dll.
Sering kali kalaupun ditawari bertukar hidup dengan orang-orang tersebut, kita belum tentu mampu juga menghadapi keseharian yang mereka alami.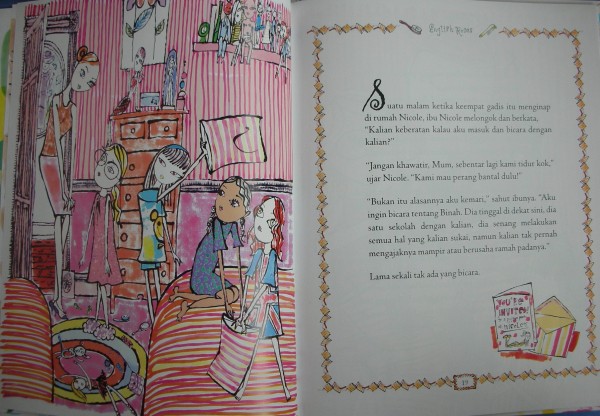 Buku ini menyederhanakan 'Don't Judge The Book by It's Cover' dari sudut pandang keseharian anak.
Pernah melihat anak membicarakan temannya seperti iri akan sesuatu? Buku ini cocok untuk memberikan gambaran bahwa mungkin temannya tidak seperti yang ia pikirkan :) Digambarkan juga, lho, sifat iri itu seperti apa.
Dengan ilustrasi yang klasik dan cenderung artistik ketimbang kartun, buku ini sesuai dengan sasaran pembaca gadis kecil 8-14 tahunan. The English Roses adalah prekuel dari 12 buku lainnya tentang persahabatan kelima gadis kecil ini. Sayang, nampaknya di Indonesia, buku yang pertama kali dicetak tahun 2003 ini, sudah tidak dicetak ulang versi bahasa Indonesia lagi. Padahal baru saja saya ingin beli satu set :p.