Awas Terjebak! Rasa Sayang atau Toxic Relationship?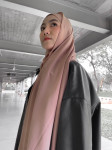 Seseorang yang berada dalam hubungan tidak sehat seringkali sulit keluar dari hubungan tersebut. Sayang, tapi toxic relationship? Simak ceritanya di sini.
Apa yang Mommies pikirkan ketika mendengar kata "toxic relationship"? Seringkali, seseorang tidak menyadari dirinya sedang berada dalam sebuah hubungan "beracun" ini. Antara merasa bahwa memang seperti itulah bentuk cinta dan rasa sayang yang diberikan oleh pasangannya, atau sadar bahwa tindakan pasangan tidak benar tapi malah dinormalisasi.
Toxic relationship sendiri merupakan sebuah hubungan yang tidak sehat dan dapat berdampak buruk bagi bagi kesehatan fisik dan mental. Sehingga, hal ini tidak boleh dianggap sepele dan harus segera dihentikan.
Episode Slice of Life dari Women by Narasi kali ini akan membawa kita kepada kisah seorang perempuan yang memilih untuk tetap menjalani hubungan yang dianggap tidak sehat. Tonton sampai tuntas di sini ya, Mommies.
—
Slice of Life dari Women by Narasi membahas isu-isu terkini dan timeless seputar kehidupan perempuan. Menampung beragam perspektif dan perbedaan pilihan suara perempuan.
BACA JUGA:
Ini Tandanya Kamu Berada di Dalam Toxic Relationship
5 Alasan Anda Harus Keluar dari Toxic Relationship
Cover image: WMN