Debenhams Halloween Spooktacular Fun, Ajang Seru & Berlimpah Hadiah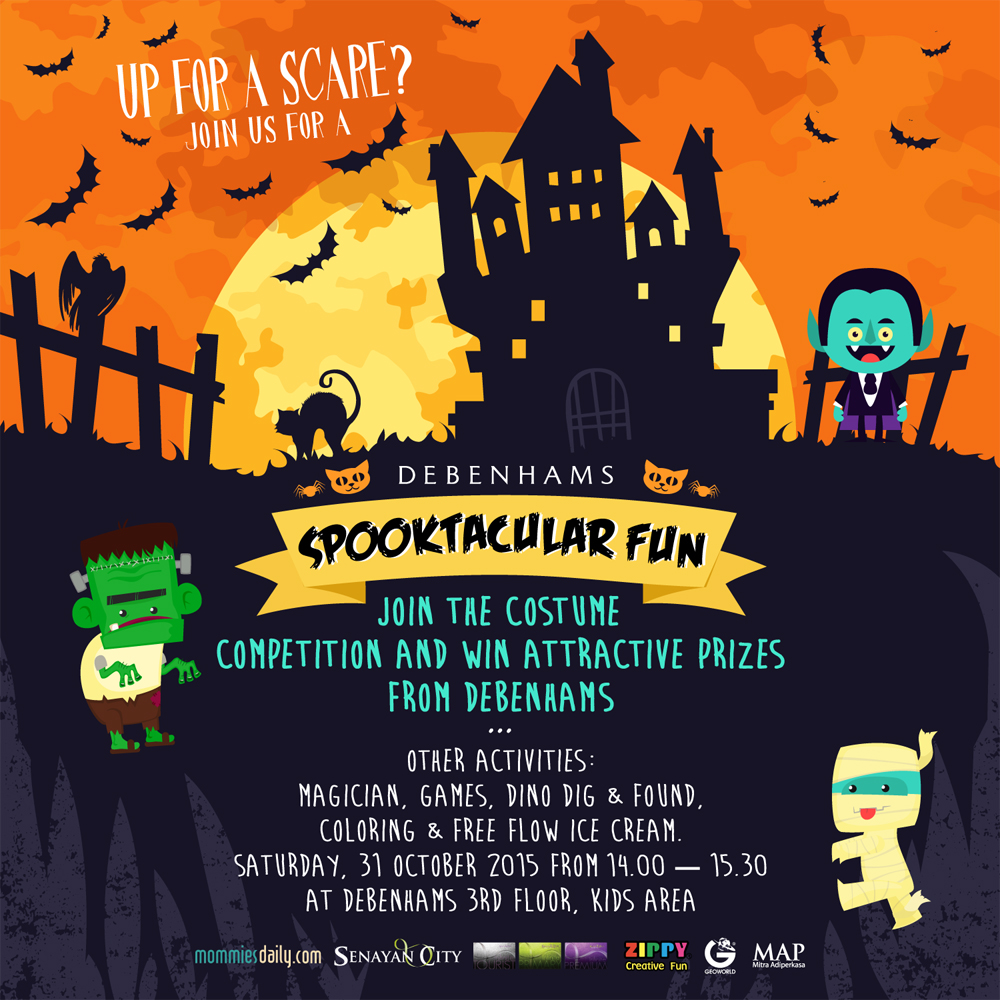 AnitaThaTha
Panggil saya Thatha. I'm a mother of my son -…
Mencari aktivitas untuk si kecil yang lain dari biasanya? Mari bergabung di Debenhams Halloween Spooktacular Fun.
Biasanya si kecil akan cepat bosan jika menghadapi kegiatan yang itu-itu saja – dan sebagai orangtua sudah sepantasnya kita kreatif dalam memilih kegiatan si kecil. Jika kebetulan Mommies berencana keliling Jakarta tapi bosan ke mal, taman kota bisa menjadi pilihannya . Atau mau di rumah saja? Nggak masalah kok, ada beberapa kegiatan yang bisa Anda dan si kecil lakukan bersama si kecil di rumah. Selain itu, bermain di luar pun juga banyak manfaatnya loh, Mommies, di antaranya bisa lebih mengenal alam sekitarnya – bahwa makhluk hidup tak hanya manusia atau hewan, melainkan aneka pohan dan tumbuhan juga bagian dari makhluk ciptaan Tuhan. Nah, jika Mommies sudah pernah mencoba semua kegiatan yang saya sebutkan tadi, akhir Oktober ini ada aktifitas menarik yang bisa si kecil ikuti – namanya Debenhams Halloween Spooktacular Fun.
Agenda utama acara ini adalah kompetisi kostum yang pasti akan seru sekaligus dapat melatih kepercayaan di si kecil. Selain itu ada pertunjukkan sulap, Dino Dig and Found, lomba mewarnai dan akan ada es krim gratis untuk si kecil, yeay! Oya, Mommies kompetisi ini diadakan untuk usia 0-12 tahun – terbayang kan? Gemasnya saat anak Anda mengenakan berbagai macam karakter Halloween. Total hadiah bagi para pemenang mencapai Rp 5 juta – yang terdiri dari voucher Debenhams, London Taxi Bike, Mercedes Bike dan aneka mainan edukatif.
Jika Mommies tertarik mengikuti kompetisi ini, Mommies cukup melakukan transaksi di seluruh outlet Debenhams, setelah itu Anda bisa langsung mendaftarkan si kecil. Acara ini akan diadakan 31 Oktober 2015 di Debenhams Senayan City lantai 3, pukul 14.00 – 15.30. Sampai jumpa di lokasi ya, Mommies :)
AnitaThaTha
Panggil saya Thatha. I'm a mother of my son - Jordy. And the precious one for my spouse. Menjadi ibu dan isteri adalah komitmen terindah dan proses pembelajaran seumur hidup. Menjadi working mom adalah pilihan dan usaha atas asa yang membumbung tinggi. Menjadi jurnalis dan penulis adalah panggilan hati, saat deretan kata menjadi media doa.