Membahas Mengajarkan Kecerdasan Emosi dan Sosial Anak di #MDLunch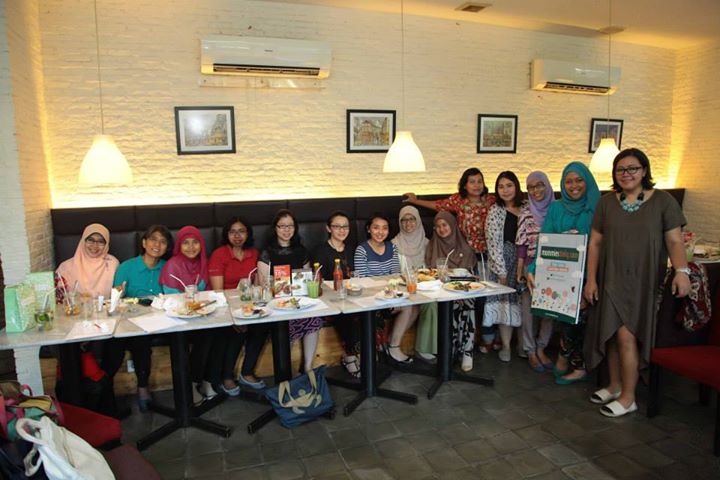 AnitaThaTha
Panggil saya Thatha. I'm a mother of my son -…
Akhir Agustus lalu MD Lunch kembali hadir dengan tema "Bagaimana mengajarkan anak untuk memiliki kecerdasan emosi dan sosial?" Mari cek cerita selengkapnya.
Mommies sudah tahu dong, ya. Setiap akhir bulan komunitas Mommies Daily akan berkumpul dan ngobrol santai mengenai tema yang sudah ditentukan. Nah, kali ini kami diberi kesempatan berkumpul di Q Smoke House, berbincang mengenai ilmu parenting sambil ditemani aneka hidangan spesial – hmmm….semuanya enak! Di awal acara kami diberikan pilihan minuman, kalau saya pilih Virgin Mojito isinya itu irisan jeruk sunkies dan strawberry, bulir jeruknya itu looh segaaaar banget. Selain disuguhi appetizers, main dish dan dessert dari Q Smoke House. Semua peserta MD Lunch beserta narasumber membawa pulang goodie bag dari Aubeau Cosmetics.
Okay…okay mari bergeser ke inti acara, nara sumber kami hari itu adalah Vera Itabiliana Hadiwidjojo Psikolog Anak dan Remaja menjabarkan mengingatkan kalau persoalan tumbuh kembanga anak bukan melulu tentang hidup sehat secara fisik, di sekolahnya berprestasi. Karna si kecil adalah makhluk sosial, sudah pasti segala hal yang akan dia hadapi akan bersinggungan dengan emosinya.
Vera membagi menjadi 5 tahapan tumbuh kembang anak:
P: Physical
I: Intelectual
L: Language+kognitif
E: Emotional
S: Social
Atau "PILES", agar mudah diingat. Pada poin dua terakhir ini, bisa disatukan. Karena erat kaitannya bagaimana anak-anak berhubungan dengan orang-orang disekitarnya. Nah, hubungan itu tidak bisa terjadi dengan baik kalau secara emosional juga tidak baik. Contoh kasusnya seperti ini, ada anak yang selalu mendapatkan apa yang dia mau, begitu dia ada di sekolah dia akan berhadapan dengan aturan. Pada akhirnya akan ada benturan-benturan, antara kenyataan di rumah dengan di sekolah.
Di halaman berikutnya, ada beberapa contoh kasus yang bisa dijadikan pembelajaran
AnitaThaTha
Panggil saya Thatha. I'm a mother of my son - Jordy. And the precious one for my spouse. Menjadi ibu dan isteri adalah komitmen terindah dan proses pembelajaran seumur hidup. Menjadi working mom adalah pilihan dan usaha atas asa yang membumbung tinggi. Menjadi jurnalis dan penulis adalah panggilan hati, saat deretan kata menjadi media doa.