Observasi Minat Dan Bakat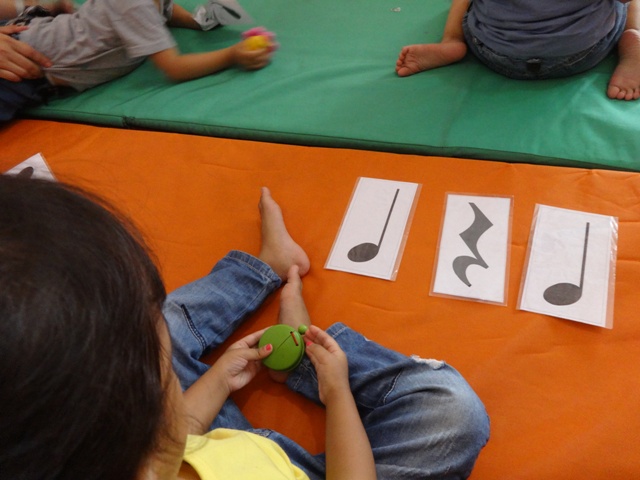 sazqueen
a mother of one who study Anthropology by choice! Hello…
Masih ingat cerita saya soal Menik yang seminggu sekali bergabung ke kelas musik di Melodia? Namanya juga ibu baru, semuanya dikira-kira, semuanya dicoba. Sebetulnya, niat awal saya meendaftarkan Menik ke kelas musik ini hanya untuk memperkenalkan ke dirinya bahwa ada makhluk kecil seumuran yang asyik untuk dijadikan teman, diajak bermain. Maklum selama ini Menik tumbuh bersama orang dewasa, dan lingkungan tempat tinggal saya tidak ada anak kecil yang sebaya. Setelah diperhatikan, Menik ini suka mengontrol atau mengatur jika kebetulan diajak ketemu anak kecil lainnya.
Nah, kebetulan waktu di acara Fisher-Price soal Play IQ, saya sempat bertanya, bagaimana cara menstimulasi anak yang sepertinya Born To Be A Leader, alias bossy! Menurut Psikolog,  Vera Itabiliana Hadiwidjojo, sikap ini bisa diminimalisir dengan cara mengajak anak bergaul dengan anak kecil lainnya, terutama yang seumuran. Makanya, saya memilih Melodia, karena isi kelasnya hanya bernyanyi, bernyanyi, dan bernyanyi. Ada bonus mempelajari sedikit soal nada dan ketukan, namun porsinya hanya 10% di setiap pertemuan.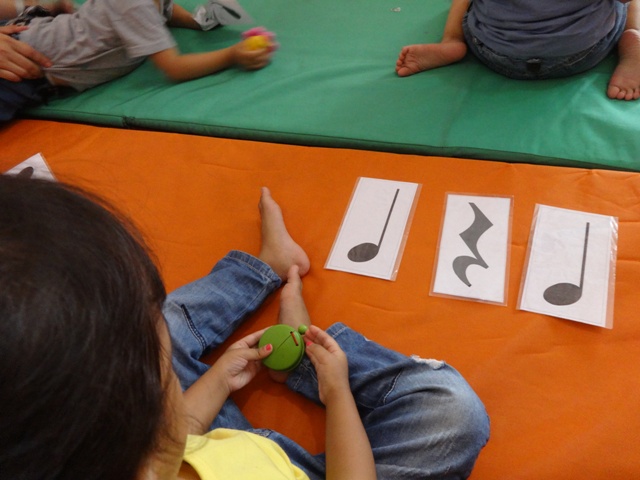 Dari cerita saya, terlihat kalau Menik enjoy, kan, ya? Setiap hari Sabtu, Menik biasanya mulai bertanya "Hari ini Menik sekolah, bu? Nanti ketemu Lenka dan Biru, ya?" Ia menyebutkan dua nama teman dekatnya di kelas tersebut. Di dalam kelas juga Menik bisa mengikuti instruksi gurunya, dan bernyanyi dengan semangat. Bahkan seringkali di rumah, Menik mengajak beberapa bonekanya untuk seakan-akan sedang berada di kelas dan bernyanyi bersama. So I think, she enjoys her class.
Persepsi ini berubah ketika saya mengajak Menik mengikuti kelas percobaan tari Balet. Ini juga nggak sengaja, sih. Sebetulnya saya ingin Menik belajar tari tradisional, seperti yang dilakukan oleh Ira. Tapi saya belum ketemu sanggar tari tradisional dekat rumah, kebetulan pas Googling 'sanggar tari' keluarlah satu nama studio balet Arabesque, yang ternyata dekat. Iseng mampir, Alhamdulillah dapat jadwal trial dua hari kemudian. Percaya nggak kalau selama dua hari itu, Menik is fuzzing around the house about she will do ballet! Padahal mencoba saja belum, kan? Oh ya, ide memasukkan Menik ke sanggar tari ini muncul begitu saja karena melihat anaknya yang setiap hari pasti menari di sekeliling rumah. Utamanya, sih, kalau lagi Love Is An Open Door dari film Frozen diputar. *Belum move-on dari Frozen*
Hari percobaan tiba. Saya sempat khawatir karena waktunya bersamaan dengan sesi tidur siang. Sampai di studio sekitar 15 menit sebelum kelas dimulai. Menik sibuk melihat keadaan sekitar, dari mulai mengintip-intip ke kelas yang dari luar terdengar suara dentingan piano. Setelah itu, Menik melihat deretan foto pentas di dinding, "Bu, nanti Menik mau bajunya yang biru gitu, ya!" sambil menunjuk deretan balerina dengan tutu berwarna biru.
Bagaimana Menik di dalam kelas? Apakah seantusias sebelumnya? Simak di halaman selanjutnya, ya!
sazqueen
a mother of one who study Anthropology by choice! Hello motherhood.