Keys to Happy Marriage: Living Rich with Your Loved Ones
Mommies Daily dan Commonwealth Bank mempersembahkan: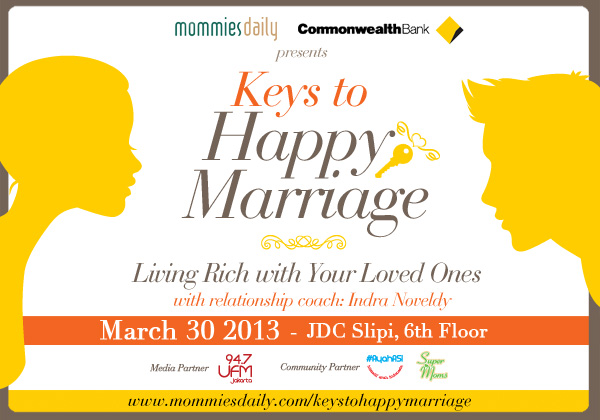 Keys to Happy Marriage: Living Rich With Your Loved Ones
with relationship coach: Indra Noveldy

*mengutip dari Menikah Untuk Bahagia: Formula Cinta Membangun Surga di Rumah, karya Indra & Nunik Noveldy*

Setiap pasangan menikah pasti menginginkan kebahagiaan. Pertanyaannya, apakah Anda sudah memiliki bayangan yang jelas tentang keluarga itu sendiri? Seperti apa bentuknya? Bagaimana kualitas hubungan yang Anda bayangkan dengan pasangan? Sudahkah Anda tahu apa yang dibutuhkan untuk menciptakan keluarga yang bahagia?

Tempat: Lotus 2 dan 3, Jakarta Design Center (Jl. Gatot Subroto kav. 53)
Waktu: Sabtu, 30 Maret 2013, pukul 08.30-13.00
Biaya:
Rp75.000 untuk peserta per orangan
Rp100.000 untuk peserta pasangan (bisa suami-istri atau pacar, bagi yang belum menikah)
*uang pendaftaran tidak bisa dikembalikan, jadi pastikan bisa datang sebelum melakukan pembayaran

Silakan mendaftarkan diri ke email: event@femaledaily.com dengan subjek "DAFTAR RELATIONSHIP SEMINAR" dengan format berikut:

Nama/ID Forum (jika ada):
Email:
Twitter:

Setelah mendaftar, silakan melakukan pembayaran ke: BCA 286 301 9851 a/n PT Daily Dinamika Kreasi dengan berita transfer: RS-nickname [misal: RS-sanetya] atau RS-nama (untuk yang bukan member forum)

Jangan lupa untuk kirim email ke event@femaledaily.com dengan subjek [RS-nickname/nama] setelah selesai melakukan pembayaran.

Sebagai tambahan informasi, kami tidak menyediakan area bermain anak di lokasi acara.

Acara ini didukung penuh oleh