5 Kegiatan untuk Anak & Keluarga di Bulan Oktober 2019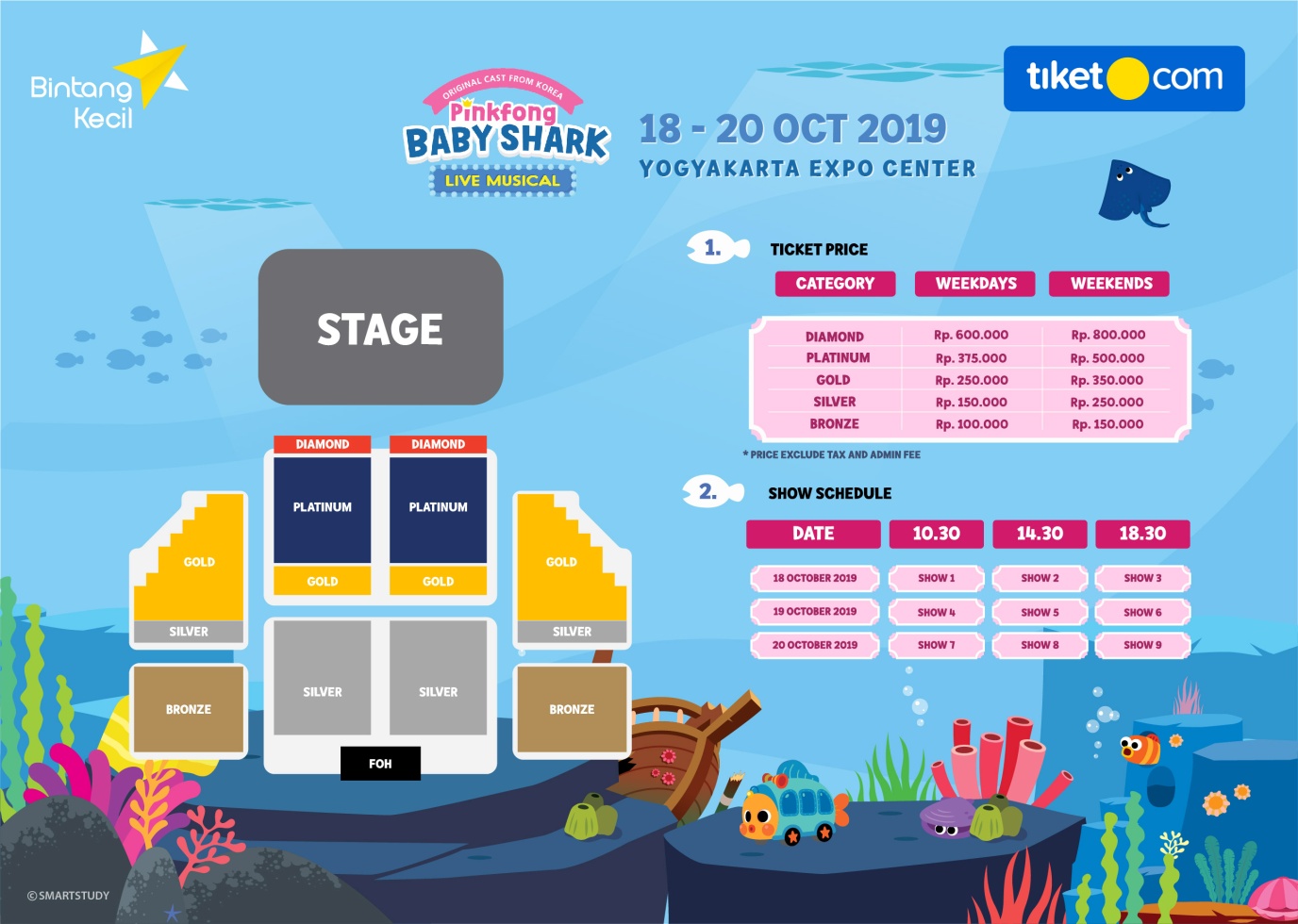 AnitaThaTha
Panggil saya Thatha. I'm a mother of my son -…
Mommies dengan anak yang suka sama Baby Shark, atau yang sedang mempersiapkan masa MPASI, nggak boleh melewatkan event nomor 1 & 2! Dan Mommies Daily bagi-bagi tiketnya lho :D. 
1. Pinkfong "Baby Shark" Live Musical hadir di tiga kota!
Pinkfong "Baby Shark' Live Musical akan menyapa mommies di tiga kota ini:
Graha Pradita Jogja Expo Centre, Jogjakarta, 18 Oktober – 20 Oktober 2019

Convention Hall Tunjungan Plaza 3 Lt. 6 , Surabaya, 25 Oktober – 27 Oktober 2019

Basket Hall Senayan (depan Hotel Mulia), Jakarta, 1 November – 3 November 2019
Tiket pertunjukkan ini sudah bisa mommies dapatkan sejak 29 Agustus 2019 di www.tiket.com/baby-shark. Berikut kategori tiket beserta harganya (Psssst, Mommies Daily akan bagi-bagi tiket juga di IG @mommiesdailydotcom, jangan lupa pantengin IG kami ya :D). 
2. Mom and Kids Cooking Class with Yummy
Bosan ke mall saat akhir pekan? Kami punya kelas memasak bersama Yummy Dairy. Tenang mommies, masaknya nggak ribet pakai segala kompor atau wajan. Soalnya menu yang akan dibuat resep sederhana: Tuna Sandwich dan Salad Buah. Bisa untuk bekal si kecil ke sekolah.
Tanggal: Sabtu, 26 Oktober 2019
Waktu: 10.00 – 12.30
Tempat: Community Center Female Daily Network. Jl. Pejaten Barat No.46, Jakarta Selatan.
Biaya: Gratis
Pendaftaran: WA 08174921688
Segera daftar ya, soalnya tempat terbatas :)
3. Seminar dan Workshop "Masak MPASI Yuk!"
Acara ini cocok banget untuk mommies yang sedang menunggu masa si kecil MPASI. Narasumbernya nggak perlu diragukan lagi, ada dr. Asti Praborini SpA, IBCLC bersama timnya.
Tanggal: Minggu, 13 Oktober 2019
Waktu: 08.30 – 12.30
Tempat: Jamur Sweden Restaurant & Garden. Jalan Raya Tanah Baru No.25 Beji, Depok Jawa Barat.
Biaya: Rp 289.000/orang
Informasi & pendaftaran: 081271253179
4. Pameran Flona 2109
Pameran Flora dan Fauna bisa mommies datangi di Lapangan Banteng, Jakarta Pusat. Berlangsung dari 6 September hingga 7 Oktober 2019. Masih tersisa akhir pekan ini, sampai Senin depan. Totalnya ada 175 peserta pemeran, yang terdiri dari penjual tanaman hias, tanaman buah,  satwa peliharaan, termasuk makanan dan minuman.
5. Café Explorer, batch 2
Menurut saya acara ini unik. Anak usia 7-12 tahun akan diajak merasakan proses sebuah café beroperasi. Saya kutip dari akun IG @liburananak, anak akan mengalami dari awal brief dari store manager cafe, menyambut tamu datang, menawarkan menu, hingga input menu ke mesin. Kegiatan ini akan melatih kesabaran anak, dan lebih menghargai waiters yang biasa mereka temui di restoran.
Tanggal: Sabtu, 12 Oktober 2019
Waktu: 10.00 – 12.00
Tempat: Tanamera Coffee, Kemang, Jakarta Selatan
Biaya: Rp 350.00
Informasi: @liburananak
 Kira-kira mana yang akan Mommies ikuti bersama anak?
AnitaThaTha
Panggil saya Thatha. I'm a mother of my son - Jordy. And the precious one for my spouse. Menjadi ibu dan isteri adalah komitmen terindah dan proses pembelajaran seumur hidup. Menjadi working mom adalah pilihan dan usaha atas asa yang membumbung tinggi. Menjadi jurnalis dan penulis adalah panggilan hati, saat deretan kata menjadi media doa.