Where To Go This Weekend: 23-24 Juni 2018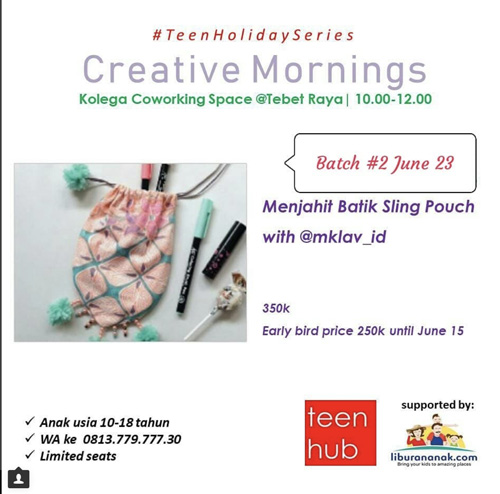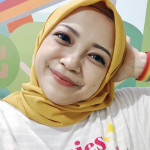 annisast
Ibu satu anak, Xylo (6 tahun) yang hobi menulis sejak…
Libur lebaran sudah usai tapi liburan sekolah masih lama ya. Sudah bingung mau ke mana lagi? Cek acara-acara berikut ini ya!
#TeenHolidaySeries CREATIVE MORNINGS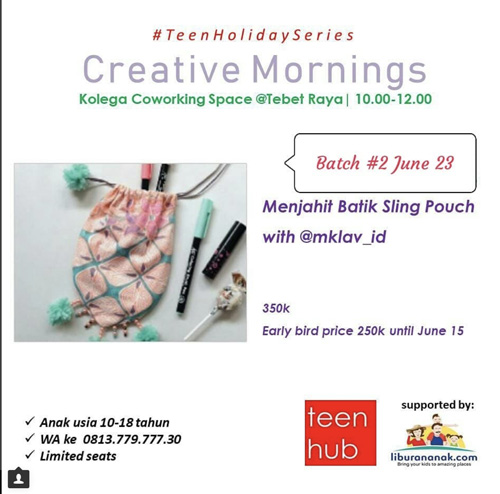 Menjahit batik sling pouch with @mklav_id 
Kolega Coworking Space @Tebet Raya, 10.00-12.00
23 Juni: 350k
Early bird discount 100rb per sesi
Tempat terbatas untuk 15 anak per kelas (usia min 10 tahun)
Informasi: WA ke 081377977730 untuk pendaftaran
Blocks Playground
Bermain Lego bersama keluarga
Pondok Indah Mall, 21 Juni – 15 Juli 2018
HTM: Rp 50ribu/session (25 menit)
Robot Trains Go! Holyday
Live show, meet & greet, photo session.
Tangcity Mall, 25 Mei – 15 Juli 2018
TAYO The Little Bus – Be Ready For School
Live show serta meet & greet bersama Tayo, Lani & Gani di Baywalk Mall, Jakarta.
Weekdays: 
11 – 14 Juni, 18 – 22 Juni, 25 – 29 Juni 2018 
The Atrium @ 4PM
Weekend:
15 – 17 Juni, 23 – 24 Juni, 30 Juni, 
1 Juli 2018 @ 4PM & 7PM
HTM: Spend a min of IDR 250.000 in a single same-day receipt at official retail partner Tayo next to Main Atrium or spend IDR 350.000 in all tenant Baywalk Mall Pluit.
Ancol Lebaran Festival
15 Juni – 15 Juli 2018
Culture show, culinary festival, seaside carnival, beach games, stress sculpture, dam banyak lagi. Diramaikan pula dengan Ancol Kampung Betawi Festival.
Info: @ancoltamanimpian on Instagram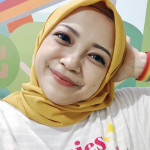 annisast
Ibu satu anak, Xylo (6 tahun) yang hobi menulis sejak SD. Working full time to keep her sanity.