Mencoba Jajanan Kekinian "Pisang Goreng Nugget", Mau?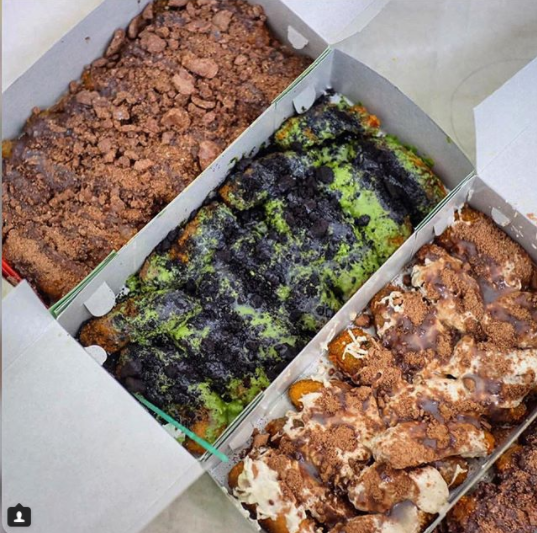 AnitaThaTha
Panggil saya Thatha. I'm a mother of my son -…
Apa jadinya ya, kalau pisang disajikan dalam bentuk nugget? Ditambah macam-macam topping, yang paling menggoda, sih, chocolate yang lumer di lidah, yumiiieee!
"Kak, jajan apa nih kita? Pingin yang manis-manis, deh."
Kalimat di atas, sering banget ditanyakan sama salah satu rekan kerja saya di kantor, Nawang. Di Female Daily Network saat menjelang sore, memang terkenal dengan sesi "jajan sore." Makanya  nih, saya harus berjuang extra keras, untuk mengembalikan berat badan usai melahirkan, lantaran kebiasaan ini *laah jadi curcol :p.
Image: Bananugget_jkt
Setiap minggu ada saja, tuh. Makanan pendatang baru, di antaranya Pisang  Goreng Nugget, dengan berbagai macam topping. Kebayang kan, di atasnya bisa ditaburi chocolate, keju, di tmabah taburan almond dan lain-lain. Mommies sudah ada yang pernah coba belum? Kalau belum, atau mau coba varian lain. Kami kasih beberapa referensinya, ya.
Ini pisang nugget pertama yang pernah saya coba. Cita rasa topping-toppingnya berkualitas menurut saya. Tekstur pisangnya nggak terlalu lembek, alias legit. Outletnya tersedia di Jakarta Barat, Jakarta Timur, Jakarta Selatan, Jakarta Utara, Jakarta Pusat, Tangerang, Depok dan Bekasi.
Dengan 14 rasa yang mereka punya, kayaknya mommies bakalan kebingungan deh mau milih rasa apa :D. Satu kemasan isinya 10 pisang, kisaran harganya Rp 22 ribu – Rp 27 ribu. Toping andalan di sini, topping matcha. Outlet mereka, ada di Kelapa Gading, Serpong Utara, Ciputat, Tebet, Bogor, Depok, Pluit, Bintaro, Condet, Bekasi Jaya, Blok M, Karawai dan Puri Indah.
Harga yang dipatok untuk satu kemasan Rp 26.500, maksimal pemesanan 4 box. Buka setiap hari (12.00-15.00) kecuali minggu. Baru melayani orderan sekitar Jakarta saja.
Outlet Pisang Kayang baru ada di Slipi dan Bintaro. Toppinh yang saya lihat di IG, tersedia chocolate, matcha, milo oreo, chocolate koko crunch, milk caramel oreo dan ,lain-lain.
Kalau pisang goring nugget yang satu ini, melayani pelanggannya di daerah Graha Raya Bintaro, Cideng Barat 2, BSD, Gading Serpong, Pamulang, Bintaro, Salemba dan Jatibening. Toping yang tersedia, choclate, cheese, oreo dan milo. Harganya berkisar Rp 20 ribu – Rp 25 ribu, tergantung dari jenis topping yang dipilih.
Semua gerai pisang goreng nugget yang kami rekomendasikan ini, bisa dipesan di layanan GoFood, ya, mommies
AnitaThaTha
Panggil saya Thatha. I'm a mother of my son - Jordy. And the precious one for my spouse. Menjadi ibu dan isteri adalah komitmen terindah dan proses pembelajaran seumur hidup. Menjadi working mom adalah pilihan dan usaha atas asa yang membumbung tinggi. Menjadi jurnalis dan penulis adalah panggilan hati, saat deretan kata menjadi media doa.