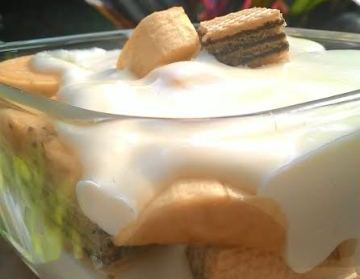 sazqueen
a mother of one who study Anthropology by choice! Hello…
Mommies yang mengikuti serial Sex & The City pasti pernah mendengar "Magnolia Banana Pudding" disebut-sebut dalam pembicaraan Carrie dan teman-temannya atau malah ingat adegan Carrie dan Miranda lagi makan cupcake di depan toko kue Magnolia ini. Ternyata untuk membuatnya tidak sulit, hanya saja dibutuhkan kesabaran untuk menunggu proses pendinginan adonan.
Gambar dari sini
Seperti biasa, Google menyelamatkan keingintahuan saya untuk mendapatkan berbagai versi resep dari puding andalan toko kue di NYC ini. Setelah membaca beberapa versi resep dan menonton sekali tutorialnya di YouTube! Saya merasa "Okay, let's do it!" Tapi dengan penyesuaian resep tentunya. Perbedaan terbesar dari resep aslinya adalah saya memasak dulu adonan puding instannya. Kalau resep asli, tidak dimasak. Mungkin ini karena di sana ada banyak bubuk puding siap saji yang bisa disiapkan hanya dengan cara diseduh. Karena saya tidak menemukan sejenis, maka saya perlu menyesuaikan sedikit saja agar kami tidak makan puding mentah :D Resep asli juga menggunakan 1 kaleng susu kental manis. Saya nggak tega numpahin satu kaleng itu ke adonan, jadi saya kurangi 1/4 hehe!
Nah, aslinya bahan yang dibutuhkan seperti gambar yang ini:

Penyesuaian dari saya dengan mengganti puding mix instan tanpa masak dengan puding instan biasa, dan Nilla biskuit yang kalau dilihat mirip biskuit Monde Egg Drops ini diganti dengan wafer coklat biasa, Tadinya saya mau pakai biskuit gandum, tapi nggak jadi. Mau pakai Monde Egg Drop tapi nggak ketemu, haha, jadi ya pakai wafer aja, deh. Mungkin kalau mau cari si Nilla, bisa ke supermarket yang menjual panganan import, seperti Kem Chicks, Food Hall, atau Toko Setiabudhi jika di Bandung.
Bahan:
3/4 kaleng susu kental manis
500 ml air
1 bks bubuk puding vanila instan
3 cup heavy cream
Pisang (sebaiknya yang sudah sangat matang, bisa pisang ambon atau pisang tanduk)
Wafer/biskuit
Cara membuat:
Masak puding dengan air hingga matang. Sisihkan dan dinginkan hingga sama dengan suhu ruang.
Kocok susu kental manis bersama adonan puding dengan mixer selama 2 menit. Masukkan ke dalam wadah kedap udara dan dinginkan di kulkas setidaknya 4 jam. Lebih bagus lagi jika didinginkan semalaman.
Ketika puding sudah siap, keluarkan dari kulkas.
Kocok heavy cream hingga kaku. Masukkan 1/3 krim ke puding, aduk perlahan dengan spatula hingga rata. Lanjutkan dengan memasukkan sisa krim sedikit demi sedikit, aduk perlahan saja.
Mulai susun biskuit, pisang di wadah saji. Siram lapisan pertana dengan adonan krim puding secukupnya. Ulangi dengan susunan biskuit-puding-krim puding seterusnya hingga adonan habis.
Tabur topping sesuai selera, misalnya kacang tanah. Tutup wadah dengan cling wrap dan simpan di lemari pendingin setidaknya 1 jam sebelum disantap.
Sajikan!
Oh ya, dessert yang ini teksturnya mirip custard, ya. Jadi tidak kaku seperti puding yang sering dibuat. Dan karena menggunakan banyak sekali susu kental manis, saran saya sih, makanan ini jadi rekreasi saja. Sebulan sekali boleh, deh, agar tidak mengganggu kesehatan dan kadar gula semua anggota keluarga. Kan menurut artikel Riska soal Clean Eating, cheating is okay! Nah, resep ini bisa jadi alternatif kalau mau cheating hihii. Selamat mencoba, ya!
sazqueen
a mother of one who study Anthropology by choice! Hello motherhood.