Premier Star Wars: Rebels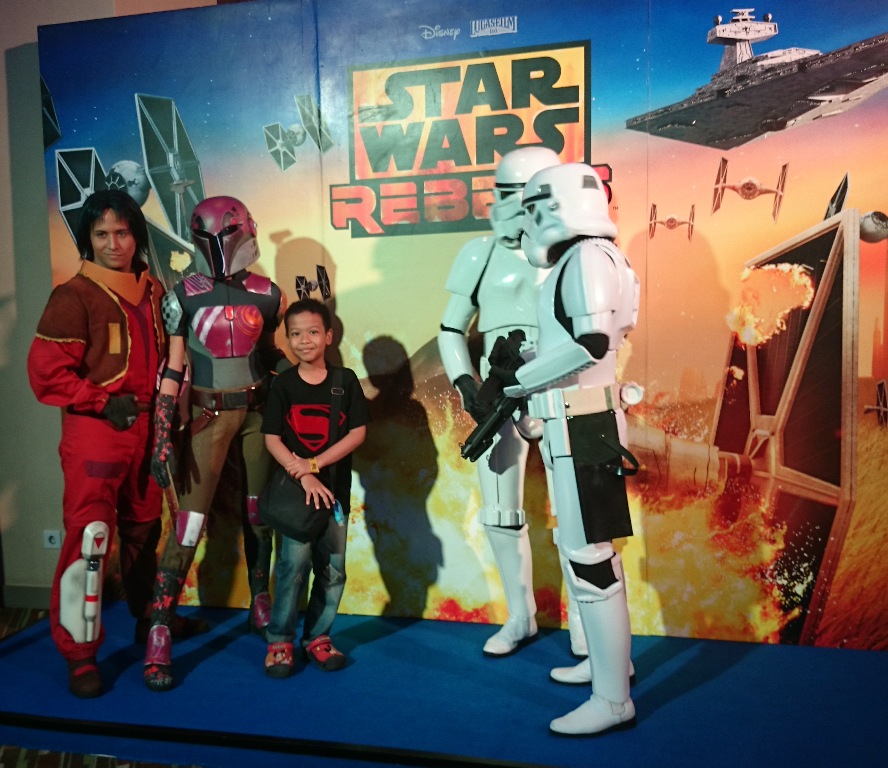 Pecinta Star Wars angkat tangan, dong! Sayangnya walau saya suka nonton film, somehow Star Wars, baik trilogi originalnya maupun prekuelnya sama-sama skipped dari radar saya. Padahal saya nonton film-film lain yang kurang lebih se-era seperti Grease dan Indiana Jones, lho. Tahu, sih, karakter utamanya bangsa Han Solo, Anakin Skywalker, Princess Leia, apalagi Darth Vader. Tapi kalau harus membahas ceritanya, saya kibar bendera putih :D.
Nah, menjelang Star Wars episode VII yang rencananya tayang 2015, produser Star Wars merilis Star Wars: Rebels yang merupakan penghubung trilogi episode IV, V, VI dengan I, II, III. Rebels ber-setting waktu 14 tahun setelah 
Star Wars Episode III: Revenge of the Sith
 dan 5 tahun sebelum 
Star Wars Episode IV: A New Hope,
 pada era di mana Imperial Galactic berkuasa dan memburu para Jedi, sementara pasukan pemberontak baru akan terbentuk
.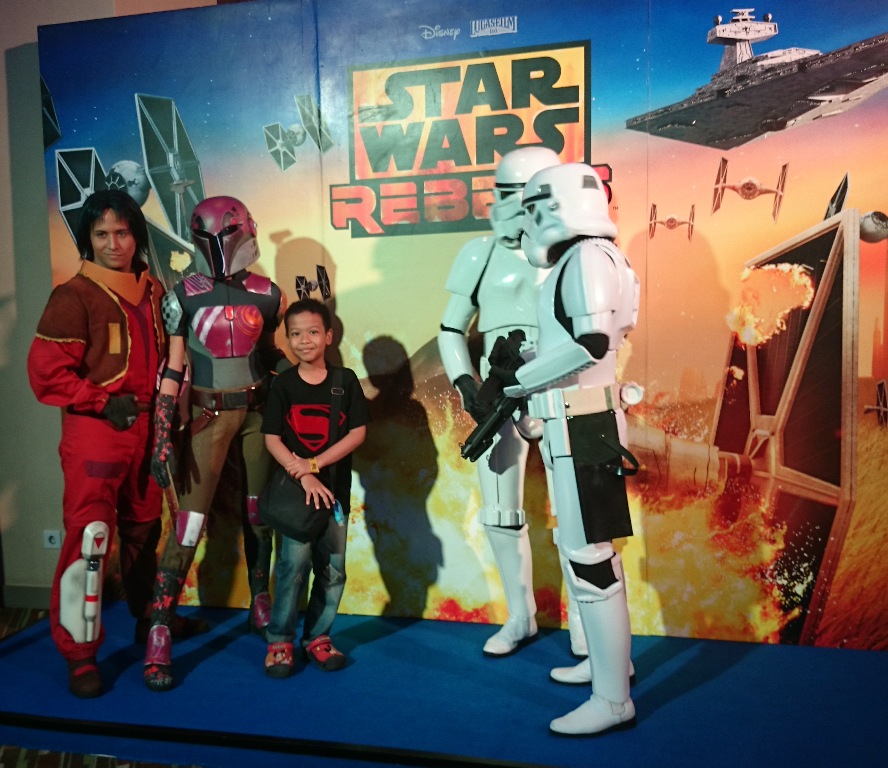 Film animasi yang diputar saat premier di Epicentrum XXI ini merupakan prolog dari serial yang akan ditayangkan di Disney Channel mulai tanggal 29 November 2014 pukul 11.00 dan Disney XD 30 November pukul 8.30. Film pengantar ini juga akan ditayangkan di kedua channel tersebut.
Pilot episode ini bercerita tentang pertemuan pertama Ezra si anak jalanan yang hidup sendiri dan hidup dari mencuri makanan, dengan cikal bakal kelompok pemberontak di bawah pimpinan Jedi Kanan yang dikenal sebagai kelompok Ghost, sesuai nama pesawatnya. Ezra yang tadinya 'bekerja' sendiri, terlibat dengan Ghost dan setelah melihat bantuan kelompok ini untuk rakyat, ia memutuskan bergabung.
Awak Ghost yang lain adalah pilot Hera dari klan Twi'lek, Sabine si seniman jalanan Mandalorian yang ahli bahan peledak dan senjata, Zeb si otot member terkuat, dan Choppper alias C1-10P si Droid.
Tidak banyak yang bisa diceritakan dari pilot episode ini selain pertemuan dan '
chemistry
' Ezra dengan anggota Ghost lain. Ezra juga nampaknya mempunyai riwayat yang belum terjawab dengan para Jedi karena bisa membuka kubik Jedi. Potongan-potongan yang belum jelas ini nanti yang nampaknya membangun serialnya.
Serial ini diproduseri oleh orang-orang yang tidak asing di proyek-proyek Star Wars, yaitu Dave Filoni (Supervising Director animasi Star Wars: The Clone Wars), Simon Kinberg (konsultan Star Wars: Episode VII – 2015), dan Greg Weisman.
Silakan Mommies fans Star Wars ikut menonton serial baru ini bareng bocah-bocah, obat kangen sebelum nonton Episode VII tahun depan :D.