Happy Mother's Day To You Too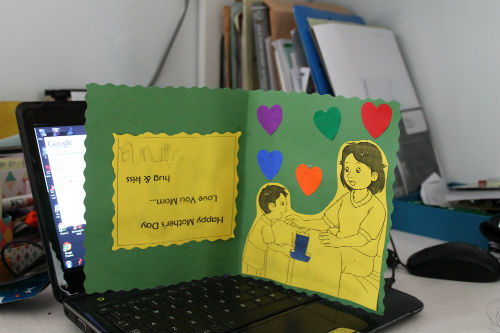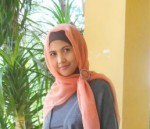 Dear miss and teachers,
Kemarin Arung pulang sekolah dan tidak seperti biasanya, tidak mendapati ibunya di rumah. Normalnya dia akan baik-baik saja dan, bermain atau bercanda dengan adik bayinya. Tetapi kali ini, begitu sampai di rumah ia langsung mencari-cari saya, "Ummi di mana?" Tidak percaya saat diberitahu ibunya sedang pergi, tidak di rumah, ia lalu menuju kamar saya, dan terus mencari-cari ibunya. Ketika tidak ketemu juga, raut dan langkah kecewa langsung terpasang, dan meledaklah tangisnya. Nenek kakek yang bersamanya langsung menelepon saya, mengabarkan hal ini dan sekaligus memberi kesempatan padanya untuk bicara dengan saya. Namun hanya tangis memanggil-manggil, "Ummi..ummi..!!" yang ada.
Menurut kakek neneknya yang bersamanya saat itu, kekecewaannya tampak sekali beserta selembar kartu yang dibawanya dari sekolah. Rupanya ia bersemangat sekali dan berharap ingin langsung memberikan kartu yang dibuatnya di sekolah tersebut kepada ibunya. Saya bisa membayangkan betapa kecewa dan sedih perasaannya ketika tidak bisa memberikan saat itu juga.
Siangnya saat saya pulang, sungguh momen yang membuncahkan kebahagiaan saat Arung akhirnya bisa memberikan kartu itu kepada saya. "Ini buat ummi", "ummi suka ya?" Dan celotehan membahagiakan lainnya yang larut dengan pelukan kami bertubi-tubi.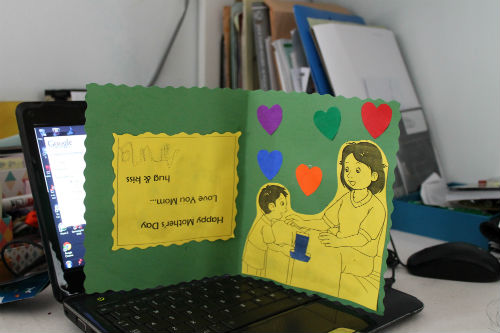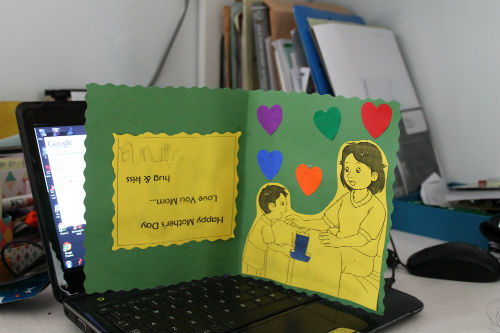 tulisannya ditempel terbalik, i'm even prouder. It's Arung personal 'touch' :D
Dear kindergarten teachers,
Bisa ditebak di bulan Desember, menjelang tanggal 22 pasti akan banyak posting di Facebook, atau status di BBM, tentang persembahan si kecil untuk ibunya. We know you are the one who make it happen. We know you wholeheartedly cut the card, make those heart shapes from colorful paper, and then enthusiastically made them to do the extra detail, paste the shapes, color it, write the prepared words, and paste all those glitters around the card. Dan hasilnya, itu semua membawa kesukacitaan, kebahagiaan dan keharuan membuncah yang tidak biasa kami dapatkan. Dan souvenir kecil lambang cinta tersebut akan kami pasang di tempat-tempat terbaik, di mana kami bisa memamerkannya dengan bangga.
Hehehe, kami tahu seorang balita tidak akan mengerti dan berpikir untuk menuliskan I love You, aku sayang Ibu, atau Happy Mothers Day -kecuali di iklan sufor-. Mereka mencintai dengan caranya sendiri. But yet, you materialized the love they have, you initiated the tradition dan untuk setiap pemberian dari si kecil itu, tetap membuat hati kami meleleh, dada sesak oleh kebahagiaan dan keharuan yang membuncah, full of love.
Terlebih, saya telah melihat cukup banyak untuk mengerti bahwa hal-hal tersebut sungguh kau lakukan karena cinta, bukan sekedar seremonial yang dijadwalkan. Untuk setiap jam kebersamaan setiap hari di sekolah, walaupun sebentar, kau sambut mereka dengan pelukan sepenuh hati, perhatian yang tercurah tulus pada setiap anak-anak itu.
Happy Mother's Day too for you, Thank you for bringing love, and those happy kids home.