Documenting Child Development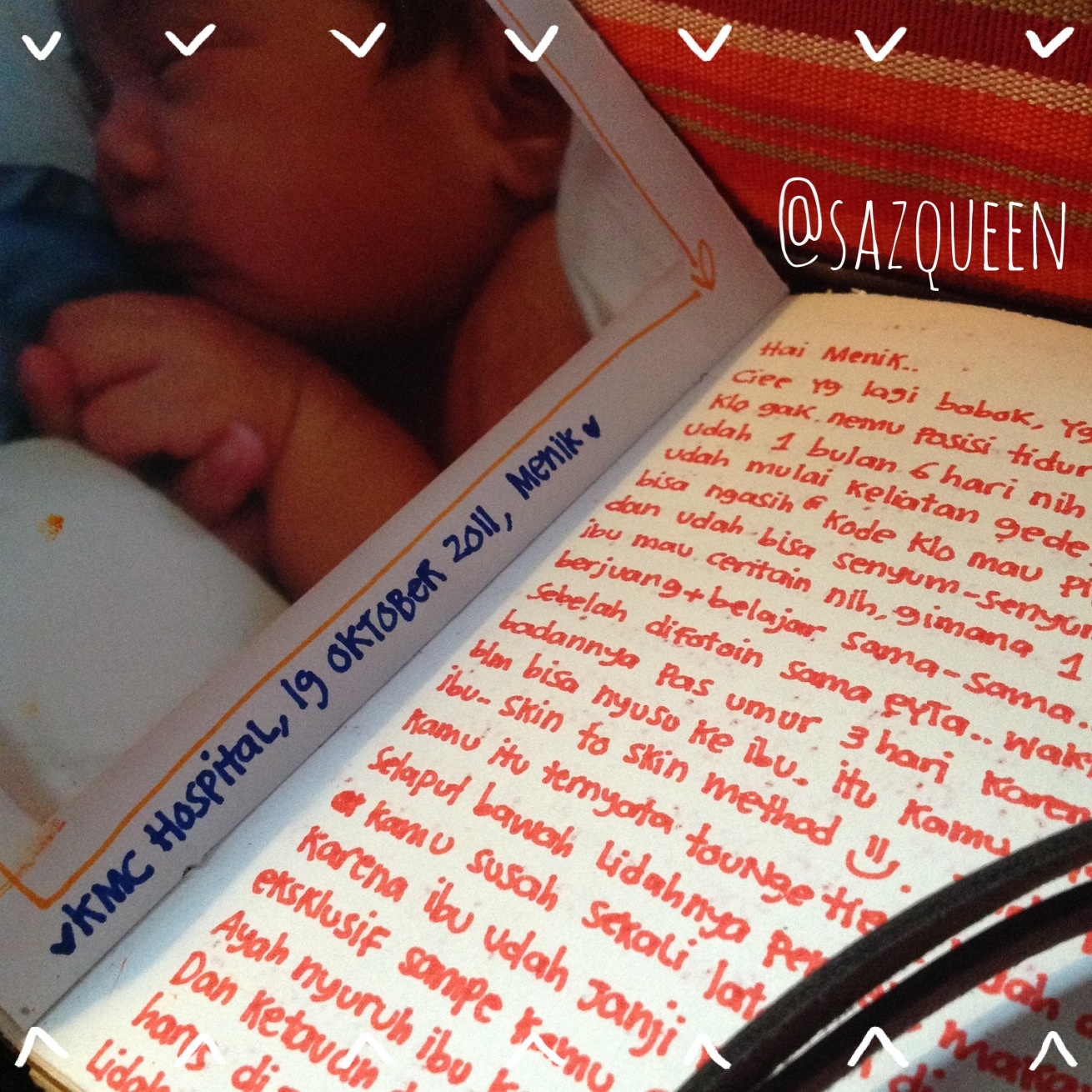 sazqueen
a mother of one who study Anthropology by choice! Hello…
Mommies pasti suka mendokumentasikan gerak-gerik si kecil dengan kamera, bisa dalam bentuk foto atau video, kan? Ternyata hobi ini penting, loh, menurut Chief Mum, Carrie Lupoli. Sewaktu mengikuti seminar Fisher Price – Joy of Learning beberapa waktu lalu di Jakarta, Carrie menyebutkan soal korelasi antara dokumentasi gerak-gerik anak dengan pertumbuhannya. I quote "parents who often don't know about nor document such milestones very much place their children at risk for life long challenges that could have been significantly improved if recognized earlier!". Wah, sebegitu pentingnya mendokumentasikan perkembangan anak?
Iya, ternyata kalau menurut pengamatan Carrie selama ini, dengan mendokumentasikan perkembangan anak, orangtua bisa menjadi lebih peka terhadap tumbuh kembang anaknya. Documenting the first five years milestone will be the basis in recognizing when parents should worry. We have to know the signs, and when in doubt, seek intervention. Dokumentasi ini juga bisa jadi pengingat apabila orangtua sudah terlalu sering membanding-bandingkan tumbuh kembang si anak dengan anak lainnya, dan kemudian menjadi khawatir berlebihan. Chart resmi soal tumbuh kembang anak bisa dijadikan pegangan saat cross check dengan dokumentasi yang ada.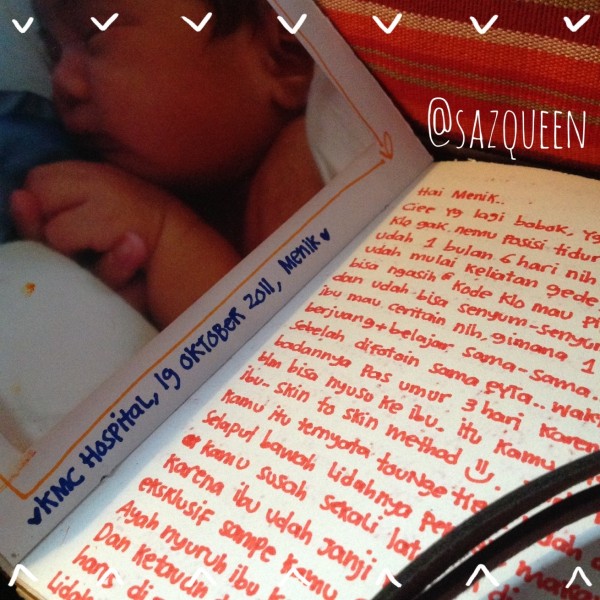 Inilah yang saya lakukan ketika saya khawatir terhadap perkembangan bahasa Menik. Dengan berbekal KPSP (Kuesioner Pra Skrining Perkembangan), saya membuka file video satu per satu. Seperti membuka diagram, saya menarik garis antara poin-poin yang ada di KPSP dengan ocehan Menik yang ada di video. Hasil akhirnya lumayan bisa membuat saya lega dan malah menemukan stimulasi apa saja yang harus diberikan. Akhirnya saya memutuskan untuk meneruskan jurnal yang pernah saya buat. Iya, saya punya sebuah buku yang sudah saya isi sejak masih hamil. Saya mencatat perkembangan janin, khayalan, doa, hingga beberapa alternatif nama. Setelah melahirkan, kegiatan menulis jurnal ini tidak lagi rutin saya lakukan, apalagi ada acara pindah dari Jakarta ke Bandung, jadi bukunya keselip di salah satu box. Sekarang bukunya sudah ada lagi, saya mulai merunut apa saja perkembangan Menik dari video yang jumlahnya sudah ratusan itu, sambil mencocokkan dengan KPSP.
Carrie Lupoli menyarankan orang tua untuk membuat dokumentasi di 5 tahun awal dengan alasan memasuki usia ke enam, otak anak sudah stabil. Sedangkan KPSP ada sampai usia 72 bulan atau 6 tahun. Ini sudah sangat membantu untuk menjaga agar tumbuh kembang anak bisa diperhatikan dengan baik. Untuk KPSP, saya biasa melihat di website milik dokter @taura_taura. Jadi mommies, daripada sibuk memusingkan diri dengan membanding-bandingkan perkembangan anak, bagaimana kalau langsung mulai mendokumentasikan tumbuh kembang si kecil?
"Childhood is not a race to see who can read, write, and count. Childhood is a small window of time to learn and develop at a pace that's right for each individual child." (Ashley Ryan, Busy Moms Parenting)

sazqueen
a mother of one who study Anthropology by choice! Hello motherhood.