Still remember the Inside Your Kid's Bedroom contest that we held? Well we got the winners already :)
The first winner of this contest is Ajengp who posted her daughters room, Audrey & Fey that transported us to the Magical Forest Room.
So here are the complete list of winners with their prizes:
First Prize Winner: Ajengp won Owl Bedding Set
Second Prize Winner: mrsacidlive won a Playmat
Third Prize Winner: diana won a Diaper Stack
Congratulations to all the winners! Please kindly email your contact detail and real name to info@mommiesdaily.com so that we can process the prize for you.
Once again thank you to Popcorn who have sponsored this contest! Please do check their website at www.ourpopcorn.com and Facebook account at www.facebook.com/ourpopcorn to view their latest collections.
Let's peek into the bedroom of Audrey & Fey and listen to the story about their bedroom.
Audrey's & Fey's Magical Forest Room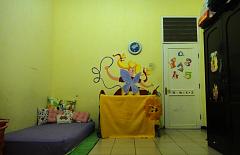 Audrey (3 y.o) & Fey (17 month) are sharing a room together. They love animals so I'm decorating their room like a magical Forest, complete with its own fairy.
Everything that were added to this room has to be in animal character, but not too stuffy, I still love a squeaky clean look.
I personally love a non famous cute characters, it makes the room more personal. (Just a little bonus on the right cupboard is a group of Disney's Princess)
The one with lion blanket is Fey's bed, sometimes she prefer to sleep in Audrey's bed. And as you can see, Audrey's bed doesn't have a bed frame yet, it's because I'm still afraid that she might fall down, but it's already on my wish list
Audrey loves numbers, so I place numbers with animal on the door & on the left wall (you'll see on the next pictures). The number is a sticker and you can easily remove it, I bought it from Ace Hard Ware.
My secret compartment for big toys is that big dark chocolate cupboard, everyone got to have it right?
Fairy's Drawing
My pride and joy of course is the big fairy painting beside the door. I painted it on my own with an acrylic paint (non-toxic & it's not smelly and inexpensive). I did it when Audrey was 6 month old. It's been my obsession to paint my kids room, and it turn out to be great. The kids love it and it's a great spot to take pictures
On the left side of the room,you can see more animal. A clown duck to place toys and other stuff, as an alternative I place fish basket and storage box for books.
The cupboard is for my kids clothes. On top of the cupboard I put clips where we can put anything memorable from the kids; such as picture, drawing or immunization card, it's inexpensive and it act as a center piece of the room.
Audrey & Fey loveee music, that's why they have mini hifi in their room which are playing all the time & they love to play with the piano too
Overall, my kids 'room is simple, and easy to redecorate. I hope it will inspire other moms.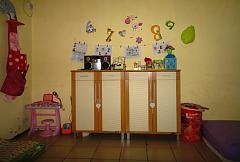 That's the tour to my kid's room. My wish list for the kids' room is to have a bed frame, repaint the big cupboard from dark chocolate to white. And of course those Popcorn Owl Bedding set that's very suitable for this Magical Forest room to be used on Audrey's bed.
And now that Audrey got her Owl Bedding Set we couldn't wait to see another picture with the new bedding set installed :)